LA+ IMAGINATION – Mention honorable – Publication printemps 2019 dans LA+ Journal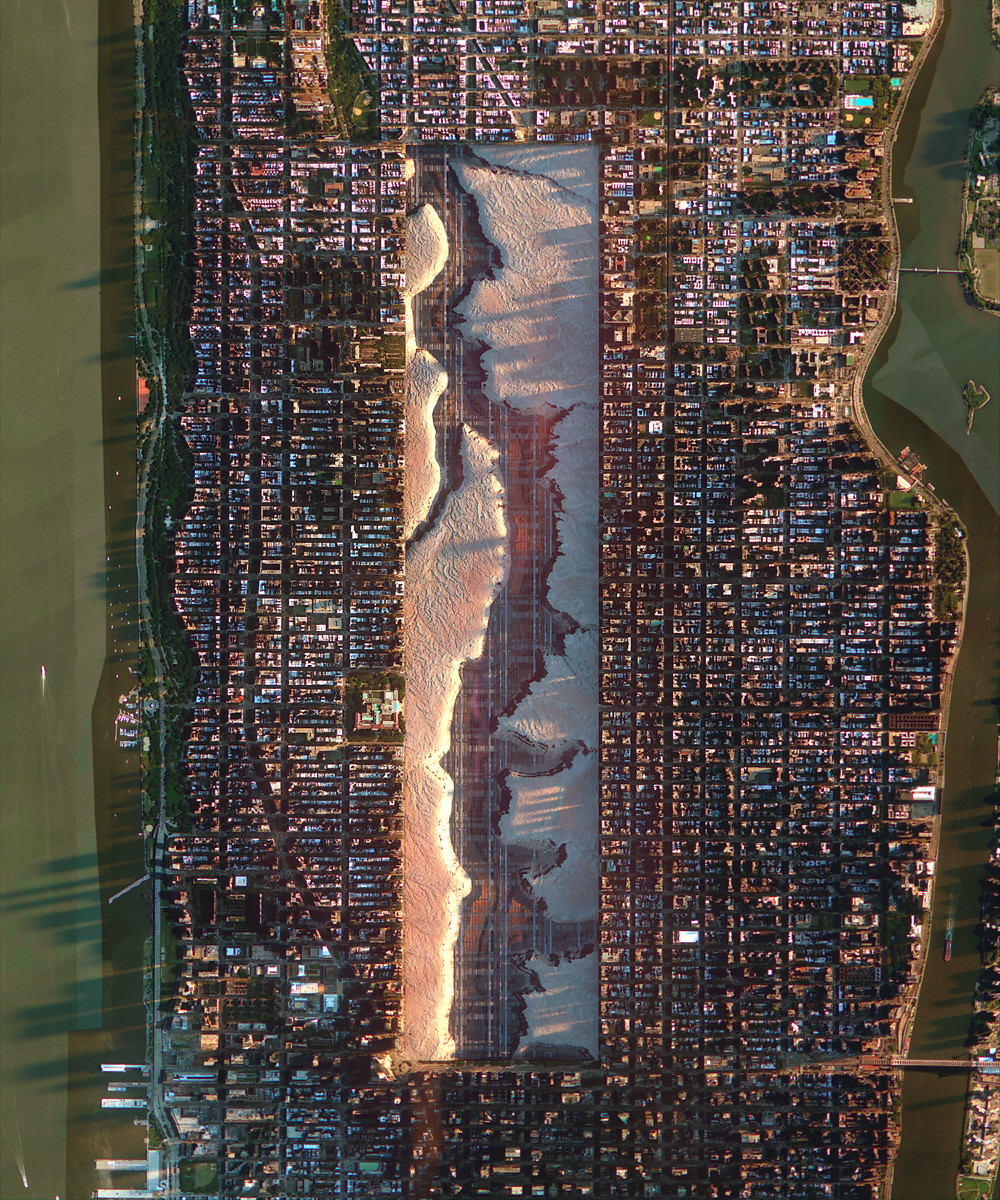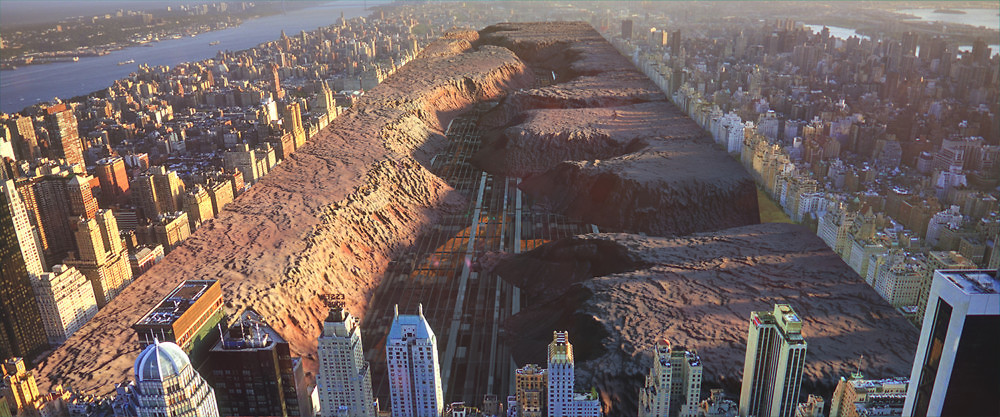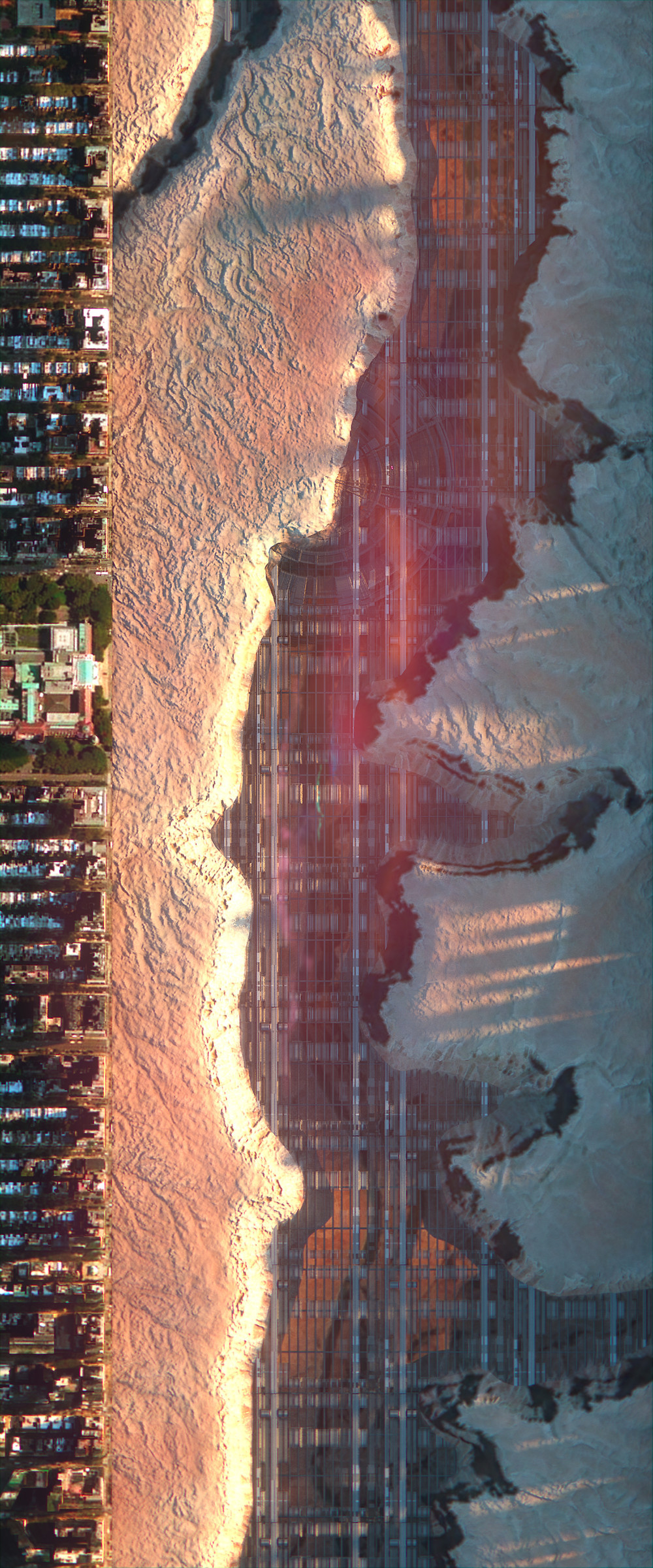 In New York City, shortly after the biomechanical attack on Central Park and the total destruction of its vegetation, diggers were activated. Thousands of trees arrive in containers. The city suffocates without its lung — everything containing chlorophyll is sown or transplanted. Like Olmsted in his time, New Yorkers yearn for the color green as "Nature's universal robe". The ground is cleared, turned and increased with all possible growth promoters, but in vain — nothing resist. 
Excavators dig deeper in search of non-toxic soil, causing landslides, rock fall and ripping movement — an exogenous topography appears. The park fractures into a gigantic telluric fault, as if the Pleistocene glacial plates were resurfacing. Faced with this geological metamorphosis, this Earthwork, as Robert Smithson would describe it, radical measures are taken. The heart of this revealed underground world is placed under a hermetic bell. 
It has now been several weeks since the park reopened. Everything is completely secure. Karen and Tallis decide to go. The basket is ready, the tablecloth, the French red wine… The fear of deep psychopathological consequences is less great than the desire to see this abyssal entropy.
After crossing Madison Avenue, they reach 101st Street. Framed by the mass of the buildings, the desert area sparkles under the polychrome reflections of the sun. Tallis feels the sporadic trembling of his rib cage like an inner earthquake. Upon arrival, they must first walk through a large empty expanse of rocks and sand littered with petrified tree debris, the remains of the last attempts at replanting. This lunar landscape calms the compulsive pulsations of the two visitors who find again the primary excitement of the discovery.
The canyon is there, at their feet. The huge technical grid covers this inverted cathedral. The descendants of Huey and Dewey from the film Silent Running have the task of watching over all these plantations protected by their thick glass ceilings. The spectacle offered fascinates them. Machines control the recreated ecosystems. But suddenly they are frightened. CinemaScope images of The Day the Earth Stood Still interrupting the flow of their childish thoughts. They then become aware that their toxic bodies are formally prohibited in this revegetated basement. 
–
New York, peu de temps après l'attaque biomécanique de Central Park et la destruction totale de sa végétation, les pelleteuses s'activent. Des milliers d'arbres arrivent par conteneurs. La ville suffoque sans son poumon — tout ce qui contient de la chlorophylle est semé ou transplanté. Comme Olmsted à son époque, les New yorkais ont la nostalgie du vert, « parure universelle de Dame Nature ». La terre est déblayée, retournée et augmentée de tous les dopants de croissance possibles, mais en vain — rien ne résiste. 
Les excavatrices creusent plus profondément en quête d'un sol non toxique, ce qui provoque glissements, éboulements et déchirements de terrain — une topographie exogène apparaît. Le parc se fracture en une gigantesque faille tellurique, comme si les plaques glaciaires du Pléistocène ressurgissaient. Face à cette métamorphose géologique, cet Earthwork, comme le décrirait Robert Smithson des mesures radicales sont prises. Le cœur de ce monde souterrain révélé est mis sous cloche hermétique. 
Cela fait maintenant plusieurs semaines que le parc a rouvert. Tout est totalement sécurisé. Karen et Tallis décident d'y aller. Le panier est prêt, la nappe, le vin rouge français… La peur de conséquences psychopathologiques profondes est moins grande que le désir de voir cette entropie abyssale.
Après avoir traversé la Madison avenue, ils rejoignent la 101e rue. Cadrée par la masse des buildings, la nappe désertique scintille sous les reflets polychromes du soleil. Tallis ressent les tremblements sporadiques de sa cage thoracique comme les secousses d'un séisme intérieur. À leur arrivée, il leur faut parcourir tout d'abord une grande étendue vide faite de roches et de sable jonché de débris d'arbres pétrifiés, restes des dernières tentatives de repeuplement. Ce paysage lunaire calme les pulsations compulsives des deux visiteurs qui retrouvent l'excitation première de la découverte.
Le canyon est là, à leurs pieds. L'immense grille technique recouvre cette cathédrale inversée. Les descendants de Huey et Dewey du film Silent Running ont la tâche de veiller à toutes ces plantations protégées par leur épais plafond de verre. Le spectacle en plongée qui s'offre à leurs yeux les fascine. Les machines contrôlent les écosystèmes recréés. Mais l'effroi les gagne soudainement. Des images en Cinémascope du Jour où la Terre s'arrêta interrompent le flux de leurs pensées enfantines. Ils prennent alors conscience que leurs corps toxiques sont formellement interdits dans ce sous-sol revégétalisé.